LESS Surgery is often more… beneficial, that is.
08/29/2016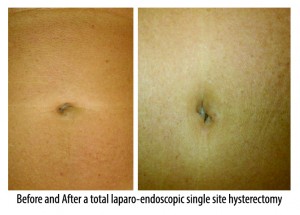 Surgery has to be one of the most frightening experiences anyone can have…except maybe visiting the dentist. All kidding aside, surgery carries a certain apprehension with it. It doesn't matter if it is an appendectomy, removal of pelvic tumors, hysterectomy, or even vaginal suspension. Compared to their male counterparts, women sometimes have the added concern of scarring. How will I look afterward? Can I wear a bikini again? In the past, it was very obvious if surgery has taken place; scarring was the permanent reminder.
Recently, however, there have been great advances with robotic-assisted and conventional laparoscopic surgeries in gynecology. At the Florida Bladder Institute, Laparoendoscopic single site surgery is a less invasive surgical option for patients with pelvic issues than is standard laparoscopy or robotics. LESS surgery drastically reduces the number of incisions that are needed. In fact it only requires one incision made through the belly button. Surgical time is also decreased due to lack of need for opening and closing extra incisions. The whole surgery is performed through that one incision. A small camera and light provide the surgeon with imagery to guide them throughout the procedure. The devices vary in their makeup, but all are geared toward the same outcome. Think about crawling behind your television to plug and unplug the wires where only one arm can fit. It is the same concept, but of course with much more precision. The benefits for patients are obvious: there is less pain, faster recovery time, and virtually no visible scar after the healing process. Laparo-endoscopic Single Site (LESS) is the one of the most advanced technologies in the quest for minimally invasive surgical options.
According to Dr. Gauta, a board certified Urogynecologist by the American Board of Obstetrics and Gynecology, LESS surgeries are an excellent surgical option for patients. Tremendous advances in instrumentation have made complicated procedures possible using laparoscopic methods. In one study, 57 out of 58 women that had Laparoendoscopic Single Site (LESS) surgery enjoyed no complications. 39 had Adnexal Surgery, which can include surgery on your fallopian tubes, ovarian cysts, or ovaries. 19 women had hysterectomies, the complete removal of the uterus. The study provides more evidence that this new advanced procedure is not only safe and effective compared to conventional laparoscopic surgery, but with an experienced surgeon it is often the better option.
Unfortunately, women have a greater number of medical issues contained within the abdomen than men do. The last thing any woman should have to worry about is more pain or scarring than is absolutely necessary. Dr. Joseph Gauta is a leading surgeon with years of experience in female pelvic medicine and reconstructive surgery. If you have any questions about Laparo-endoscopic Single Site (LESS) surgery or women's pelvic health issues, you can contact him at (239) 449-7979. His clinic is located at 1890 SW Health Parkway, Suite 205 in Naples.
Joseph Gauta M.D.
Board Certified Urogynecologist
Dr. Gauta is now the first physician in S.W. Florida dual board certified in Urogynecology and Obstetrics and Gynecology. Dr. Gauta's practice, The Florida Bladder Institute, is solely dedicated to Urogynecology.
One out of every six women suffers from overactive bladder and half of all women will suffer from pelvic organ prolapse. A challenge for women seeking treatment is that they would go to a urologist for one problem, a gynecologist for another and a gastroenterologist for another. Dr. Gauta explains "A Urogynecologist has the skill and experience to assess the entire pelvic region including the uterus, bladder, vagina, rectum as well as the muscles, ligaments, connective tissue and nerves that support those systems. Evaluating your pelvic system as a whole ensures the best treatment and outcome". Some of the newer treatment options include biofeedback, electrical stimulation, Botox, and minimally invasive outpatient surgery. In addition to providing the most advanced medical care for his patients, Dr. Gauta was a preceptor for Boston Scientific, Medtronic and Olympus and trains other physicians from around the world on how to do the most advanced Urogynecology procedures. He is the recipient of the prestigious Castle Connolly's Top Doctors award, and is amongst the top 1% of physicians in the country who are honored with the Patient's Choice Award for 5 years in a row. Dr. Gauta received his training at Tulane University in New Orleans mentored by world renowned Urogynecologists David Herbert M.D. and Thomas Elkins M.D.
Call 239-449-7979 or Contact Us today!
It's time to start living your life to the fullest. Regain control of your life.