Nicole Houser PA-C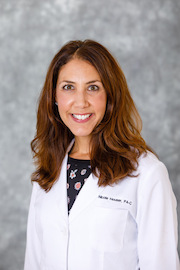 Nicole is a women's health care practitioner having graduated with a Masters in Physician Assistant Studies from Chatham University in Pittsburgh, PA. She also holds a Bachelor of Science degree in Nutrition from The Pennsylvania State University in University Park, PA.
She began her career in Pittsburgh, PA after earning her masters in PA studies in 2003. She worked for the West Penn Allegheny Health System for 12 years where she gained a variety of medical and surgical experiences. 
Nicole and her family relocated to Naples from Pittsburgh in early 2015 and she was happy to have found her niche in women's health.
Nicole provides problem-focused urogynecologic exams and addresses other women health concerns. She provides initial gynecological and urology exams and consultations. Additionally, she performs minor office procedures which include colposcopy and pelvic floor therapy.    
Call 239-449-7979 or Contact Us today!
It's time to start living your life to the fullest. Regain control of your life.