Amanda Schultz PA-C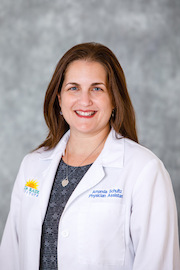 Amanda is a women's health care practitioner having graduated with a Master of Public Health Degree and a Bachelor of Science Degree in Physician Assistant Studies with Honors from Nova Southeastern University in Ft. Lauderdale.
Her experience includes colposcopy and minor office procedures including urogynecological testing (urodynamics and anorectal manometry). She provides annual well-women visits, contraceptive procedures like IUDs and Implanon, initial gynecological exams and consultations, menopausal management  and other women's health concerns.
She also has extensive training and experience in pelvic floor therapy (PT or PFMT). Through the use of biofeedback, electrical stimulation, massage and other techniques, our patients can find relief of the problems in a comfortable and familiar setting.
Call 239-449-7979 or Contact Us today!
It's time to start living your life to the fullest. Regain control of your life.